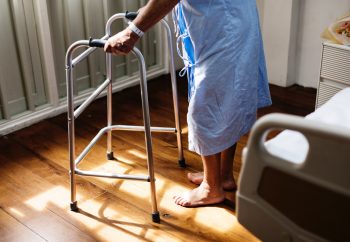 If you or someone you love is in need of long-term care, it might be time to consider long-term care health insurance. Although more expensive than other healthcare plans, the daily assistance and community that comes with long-term care can significantly increase our quality of life and well-being in later years.
What is long-term care insurance?
"Long-term care" is used to describe a specific type of healthcare designed for people with disabilities, chronic ailments or conditions that require daily medical assistance. Long-term care covers a wide range of help, from cooking, cleaning and bathing to physical therapy, medicine administration, and ongoing treatment from trained medical professionals.
Because most job-based health insurance plans don't include long-term care, those seeking such services generally need to purchase an individual plan. Medicare can cover nursing home visits and at-home care, but only for short durations of time, and usually under very specific conditions.
Services that are covered by long-term care insurance
Long-term care policies will include some of the following services.
Assisted living: An apartment-like facility that offers more privacy and independence than a nursing home. Services such as cleaning, bathing, cooking and meal delivery are provided as they're needed.
Care coordination: A care coordinator is a licensed professional that assists with locating specific services and arranging the care you need.
Home care: A home care professional will perform similar activities found in assisted living and nursing home environments but from your home. They can also help with general household chores.
Nursing home: Also known as a long-term care facility, a nursing home is an establishment that offers around-the-clock health and medical care. Less private than an assisted living, but better equipped to handle a medical emergency at a moment's notice.
Types of long-term care plans
The most common type of long-term care insurance is an individual plan bought through a health care broker or insurance agent.
Other policies include employer-sponsored plans, state partnership programs, and joint policies. Employer-sponsored plans may provide coverage at a discounted group rate, and can even extend to family members. A State Partnership Program allows you to qualify for Medicaid to offset some of the costs of an individual plan. Joint policies are plans that cover more than one person. While it can be beneficial for a couple with similar conditions to enroll in a joint policy, the benefits are shared, and there is a cap on the maximum amount of benefits provided.
What to consider before purchasing a policy
Each long-term care policy is different. Some policies help you pay for a variety of services, such as adult day care and home modifications, while others will cover the costs of long-term care whether you're living at home or in a long-term care facility.
Consider the following factors to help decide on a long-term care policy that's right for you.
Age: Policies are less expensive when you're younger. Older patients, especially those with severe conditions, will likely have to spend much more money for insurance if they're approved.
Premiums: When considering a long-term care policy option, it's always in your best interest to map out your finances for the foreseeable future. Will you be able to cover the costs of your premium if it increases over the next few decades?
Savings: Speak to your financial advisor, estate planner or lawyer regarding any savings and investments before purchasing a long-term care policy plan. They will help you set aside savings for future care and advise you on if long-term care insurance is a viable option.
Interested in Long-term care insurance?
Purchasing a long-term care policy plan is a big decision. Long-term care can be extremely beneficial depending on the circumstance. We're here to answer any questions or concerns you may have.
Contact us today regarding any long-term care questions!